Catherine of Siena (Person) AKA Caterina di Giacomo di Benincasa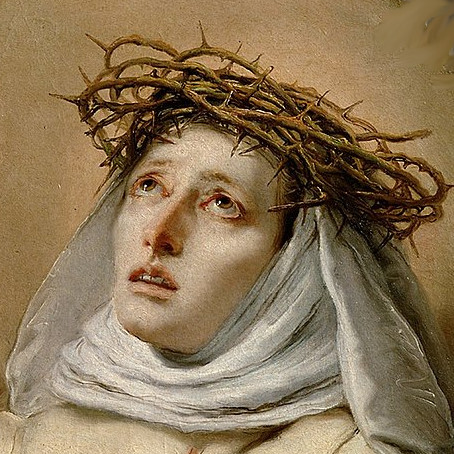 Catherine of Siena
1347 AD - 1380 AD
AKA Caterina di Giacomo di Benincasa
Dominican mystic, activist, and author who had a great influence on Italian literature and the Catholic Church. Canonized in 1461, she is also a Doctor of the Church

Caroline Walker Bynum explains one surprising and controversial aspect of this marriage that occurs both in artistic representations of the event and in some early accounts of her life: "Underlining the extent to which the marriage was a fusion with Christ's physicality [...] Catherine received, not the ring of gold and jewels that her biographer reports in his bowdlerized version, but the ring of Christ's foreskin."

Catherine herself mentions the foreskin-as-wedding ring motif in one of her letters (#221), equating the wedding ring of a virgin with a foreskin; she typically claimed that her own wedding ring to Christ was simply invisible.

She wrote in a letter (to encourage a nun who seems to have been undergoing a prolonged period of spiritual trial and torment): "Bathe in the blood of Christ crucified. See that you don't look for or want anything but the crucified, as a true bride ransomed by the blood of Christ crucified-for that is my wish. You see very well that you are a bride and that he has espoused you-you and everyone else-and not with a ring of silver but with a ring of his own flesh. Look at the tender little child who on the eighth day, when he was circumcised, gave up just so much flesh as to make a tiny circlet of a ring!" Raymond of Capua also records that she was told by Christ to leave her withdrawn life and enter the public life of the world.

Catherine rejoined her family and began helping the ill and the poor, where she took care of them in hospitals or homes. Her early pious activities in Siena attracted a group of followers, women and men, who gathered around her."

Other correspondents include her various confessors, among them Raymond of Capua, the kings of France and Hungary, the infamous mercenary John Hawkwood, the Queen of Naples, members of the Visconti family of Milan, and numerous religious figures

Approximately one third of her letters are to women." For many years she had accustomed herself to a rigorous abstinence and extreme fasting that appeared unhealthy in the eyes of the clergy and her own sisterhood.

Her confessor, Raymond, ordered her to eat properly. But Catherine claimed that she was unable to, describing her inability to eat as an infermità (illness).

From the beginning of 1380, Catherine could neither eat nor swallow water, and on February 26 she lost the use of her legs. "